PRODUCT INFO

Always rep your uniform number with our Stainless Steel Custom Number Pendants! This is for only the number pendant. Chain necklace is NOT included. This Pendant Only listing is ideal for an athlete that has purchased our Read more

View full details
Sizing
Guide
FOR REFERENCE ONLY - PLEASE MEASURE BEFORE ORDERING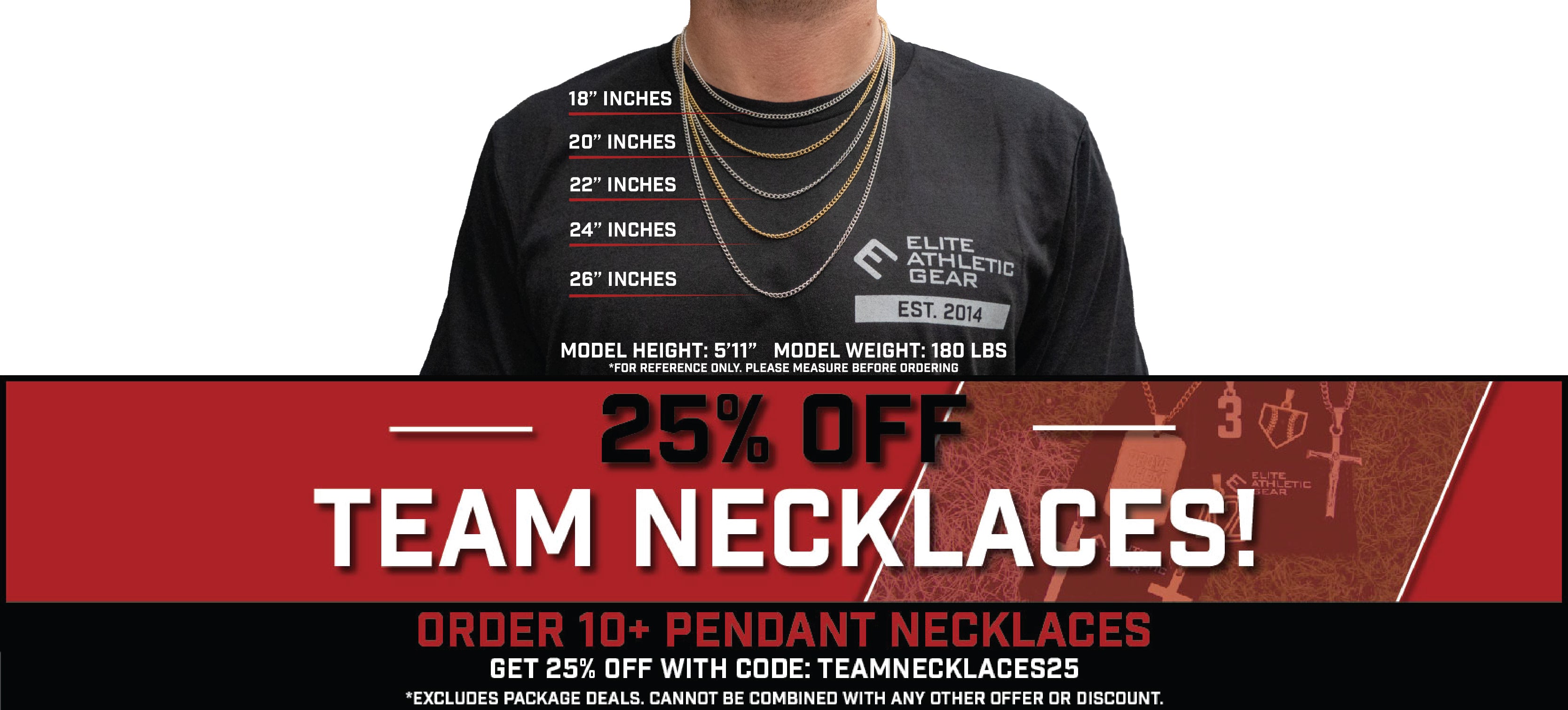 STAINLESS STEEL

316L Grade Stainless Steel

TARNISH RESISTANT

No Rust or Changing Color

DURABLE

Crafted With Athletes in Mind and Made To Last

ENGRAVING

Available on Most Pendants

CHAIN LENGTHS

Size Options for Kids and Adults

1 Year Warranty

Covers Defects and Workmanship
ENGRAVING
Personalize Your Pendant

PRODUCT INFO

Always rep your uniform number with our Stainless Steel Custom Number Pendants! This is for only the number pendant. Chain necklace is NOT included. This Pendant Only listing is ideal for an athlete that has purchased our Custom Number Pendant With Chain Necklace but has multiple numbers for different sports and wants to buy another number to be able to put on our chain.  
High quality polished 316L grade stainless steel pendant 
TARNISH RESISTANT - It will not rust or turn colors from excessive sweating or showering
DURABLE - Our pendants and necklaces are crafted with athletes in mind and are made to last
ENGRAVING - Add personalization to your pendant by adding a name, phrase, or meaningful date.


The 4 font options are shown in the photos as a reference.
Please double check all spelling and capitalization.
All engraved order sales are final. No returns or exchanges.

Includes an ELITE ATHLETIC GEAR branded velvet pouch for storage or easy gifting. 
Pendant Size:

Height: 19MM
Depth: 1.5MM
Width: 5-20MM depending on the number

The clasp is designed to fit our chain necklaces which are 3.07MM. Any other chains larger than that will not fit.
FREQUENTLY ASKED
QUESTIONS
Can this get wet?
Yes, our pendants and necklaces are water and sweat proof. You can confidently wear them in the shower or pool.
Will this turn my neck green?
No, our high quality 316L grade stainless steel is guaranteed to not turn your neck green.
What length necklace should I get?
We always recommend measuring, but you can also reference our sizing chart.
Do you offer discounts for teams?
Yes, we offer 25% OFF for orders of 10+ pendant necklaces. Use code: TEAMNECKLACES25
HOW DOES ENGRAVING WORK?
We offer personalization with engraving on some of our pendants. You can pick the location, font and text. All sales are final on engraved products.
Returns & Exchanges
We offer free returns and exchanges on U.S. orders for 30 days. Excludes engraved products.
How do I get FREE shipping?
We offer FREE U.S. shipping on all orders over $50! No code needed.
 ONE YEAR WARRANTY
Elite Athletic Gear is committed to providing the highest standard of sports gear, jewelry and accessories – which is why we offer a 1 Year Warranty on all products sold at EliteAthleticGear.com. 
The warranty covers defects of workmanship and materials, but does not cover lost or stolen products, damage caused by accident, improper care, negligence, normal wear and tear, scratches, stains, water damage, color fading, sun exposure or extensive use.
To submit a warranty claim please submit the following information via email to info@EliteAthleticGear.com 
1. Order Number
2. Photo/s of the product showing the defect
3. Explanation of what happened
4. Shipping address and phone number 
Once received - we will work directly with you to either repair or replace the product. If we are replacing the product it must be replaced with the same exact product as originally ordered unless if the product is sold out or has been discontinued. If the original product in unavailable then we will offer you a replacement of the same value. 
Our warranty is valid for 1 product repair or replacement per order. Multiple claims cannot be submitted on a specific product.
SMALL BUSINESS
Family Owned & Operated
400,000+ ORDERS
Shipped Since 2014
FAST SHIPPING
From Bradenton, FL
1 YEAR WARRANTY
Covers Defects & Workmanship