Stay safe and stylish with our premium silicone rings. Its beveled edge design emulates the look of metal, while its soft and lightweight silicone construction ensures comfort and versatility. Enjoy an active lifestyle without the inconvenience of having to remove your ring, as it is designed to break away if it is stretched beyond acceptable pressu...Read more

View full details
RING SIZE
GUIDE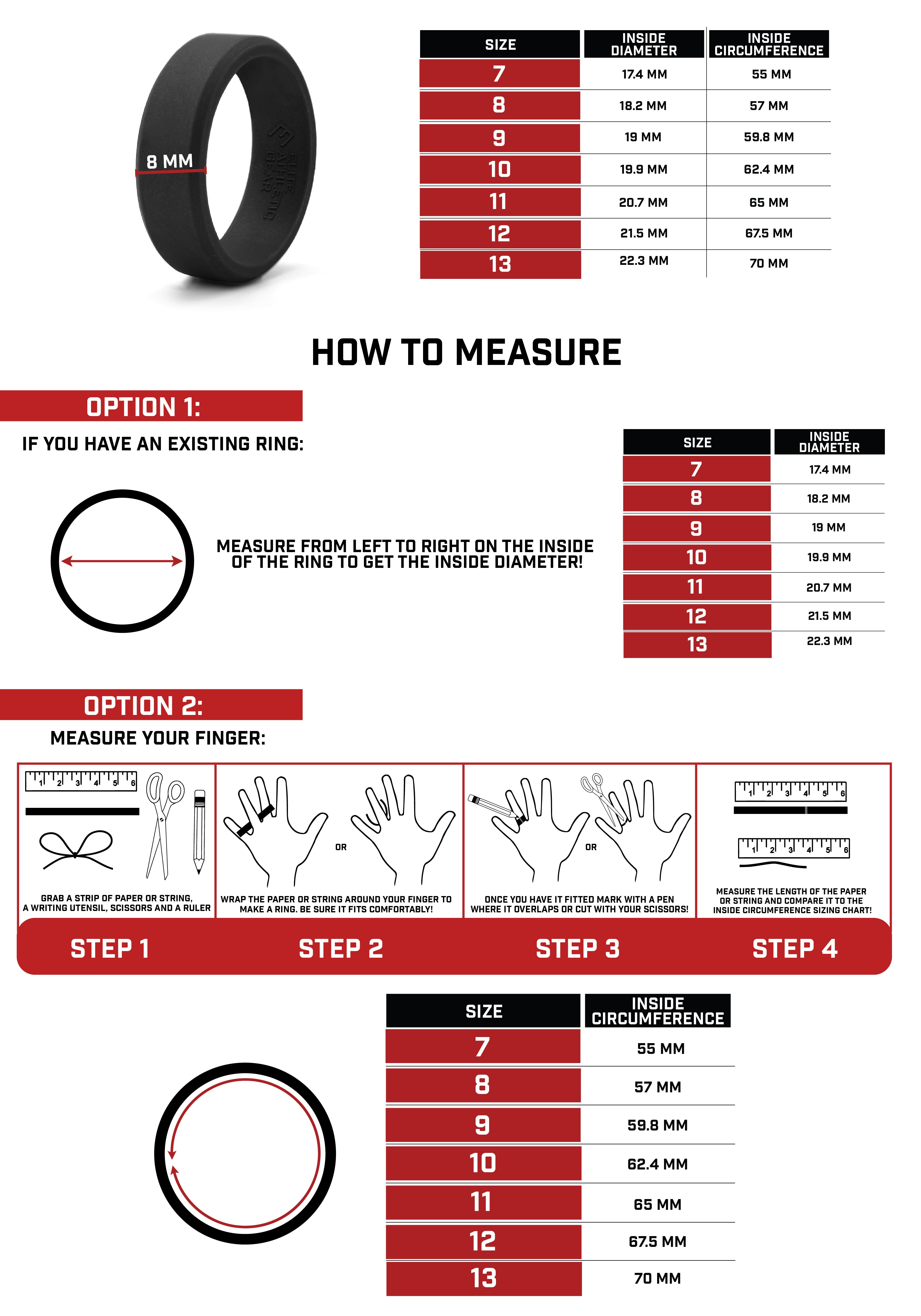 SAFETY

Designed to break to keep your finger safe

Comfortable

Soft and Lightweight Silicone

Beveled Edge

Sleek Design to Look Like Metal

Convenience

Stay Active Without Having To Remove Your Ring

AFFORDABLE

Significantly Less Expensive Than Metal

WATER & SWEAT PROOF

Never Have To Take It Off
Sports

Running

workouts

Biking

Work

Recovery

Yoga & Pilates

Outdoors
Stay safe and stylish with our premium silicone rings. Its beveled edge design emulates the look of metal, while its soft and lightweight silicone construction ensures comfort and versatility. Enjoy an active lifestyle without the inconvenience of having to remove your ring, as it is designed to break away if it is stretched beyond acceptable pressure to protect your fingers from harm. You can now confidently wear your ring while playing sports, working out and during any other physical activity. 
DURABLE: Made of high quality silicone that is soft and comfortable
SIZING: We offer ring sizes 7-13, but please refer to our sizing guide to help ensure you get the size you need
DEBOSSED: The design is debossed into the ring, so it will not fade away or rub off
RING WIDTH: 8mm
RING COLOR: Black
FREQUENTLY ASKED
QUESTIONS
Why are silicone rings safer?
Unlike metal rings, silicone rings are designed to break if they are pulled hard enough to protect your finger.
How do I know my ring size?
Refer to our size guide to measure an existing ring or for steps to measure around your finger to find your size.
Can I wear it during sports and working out?
Yes, you can confidently wear your ring during physical activities.
Returns & Exchanges
We offer free returns and exchanges on U.S. orders for 30 days. Exclusions apply.
How do I get FREE shipping?
We offer FREE U.S. shipping on all orders over $50! No code needed.
When will I get my order?
We ship most orders within 1 business day. Transit time generally ranges from 1-7 business days for delivery.
When did EAG launch?
Our company launched in 2014 out of a college dorm room.
Contact us with any other questions!
Email: info@EliteAthleticGear.com or Call/Text: 888-220-8050
 ONE YEAR WARRANTY
Elite Athletic Gear is committed to providing the highest standard of sports gear, jewelry and accessories – which is why we offer a 1 Year Warranty on all products sold at EliteAthleticGear.com. 
The warranty covers defects of workmanship and materials, but does not cover lost or stolen products, damage caused by accident, improper care, negligence, normal wear and tear, scratches, stains, water damage, color fading, sun exposure or extensive use.
To submit a warranty claim please submit the following information via email to info@EliteAthleticGear.com 
1. Order Number
2. Photo/s of the product showing the defect
3. Explanation of what happened
4. Shipping address and phone number 
Once received - we will work directly with you to either repair or replace the product. If we are replacing the product it must be replaced with the same exact product as originally ordered unless if the product is sold out or has been discontinued. If the original product in unavailable then we will offer you a replacement of the same value. 
Our warranty is valid for 1 product repair or replacement per order. Multiple claims cannot be submitted on a specific product.
SMALL BUSINESS
Family Owned & Operated
400,000+ ORDERS
Shipped Since 2014
FAST SHIPPING
From Bradenton, FL
1 YEAR WARRANTY
Covers Defects & Workmanship